Dominic from Mermaid Waters: "A friend told me about Gold Coast Solar Power Solutions and I found them quite reasonable on price when I was comparing them with other companies I had already looked at. The installation was quick and smooth, and the workers were pleasant."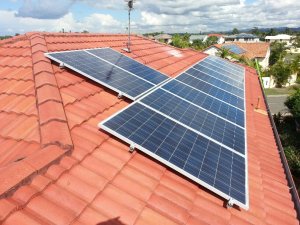 Solar power Mermaid Water: Dominic's 6kW Solar Power System at Mermaid Water – proudly installed by Gold Coast Solar Power Solutions.
Solar Power Specifications:
System Size: 6 kW
System Location: Mermaid Waters, Gold Coast, Queensland, Australia
Solar Panel Type & Quantity: DAQO 250W x 24
Solar Inverter: ABB / Power-One Aurora PVI-5.0
Gold Coast Solar Power Solutions have been installing solar power systems on the Gold Coast and the surrounding areas since 2008. Our friendly team provides no-pressure advice to assist you in determining the best system to meet your specific needs in the Mermaid Water area. To make things easy for you when you have a system installed, Gold Coast Solar Power Solutions organize the changeover of meters in the Mermaid Waters area with Energex.
We also provide system maintenance checks and solar panel cleaning, solar power system upgrades and additions, as well as repairs and replacements on solar panels and inverters.
If you're in Mermaid Waters and are after a solar power system, Gold Coast Solar Power Solutions can help you today!

Gold Coast Solar Power Solutions specialize in:
We are the Gold Coast solar power experts!
Read more solar power testimonials from Gold Coast Solar Power Solutions customers