The REC Group have just received the 2011 Solar Industry Award for their Innovative REC proprietary Fluidized Bed Reactor (FBR) Process, which significantly reduces the energy required to produce Solar Grade polysilicon. This unique technology makes REC the first company to produce solar panels with a one (1) year energy payback time. REC is the world's largest producer of granular polysilicon which is used in the manufacture of their REC solar panels.
The prize was awarded by the Solar Industry Magazine and was announced during EUPVSEC, the solar industry's most important technology conference. The winners were selected by voters representing leading players in the solar industry. This is the second time in a row that REC has received the Solar Industry Award.
Have your REC solar panels installed by the REC Solar Professionals – Gold Coast Solar Power Solutions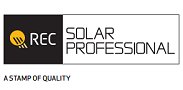 Gold Coast Solar Power Solutions is recognised by the REC Group as REC Solar Professionals. As a REC Solar Professional you the customer benefit from an additional 2 year material and workmanship warranty on your REC solar panels, bringing the total material and workmanship warranty up to 12 years. This is possible by the fact that the REC Group recognises that when your solar power system is installed by Gold Coast Solar Power Solutions it will be installed to all the specifications that the REC Group specify.