Do you have a Growatt Solar Inverter No AC Connection Issue?
Do you have a "No AC Connection" message being displayed on your Growatt Solar inverter? If so you've come to the right place for help!
With the No AC Connection issue the red Fault light is on and the screen displays the "No AC Connection" message. This means that the inverter is not detecting any electricity from the power grid or from the switchboard and needs to be checked right away.
What can you do about a Growatt Solar Inverter No AC Connection issue?
The first thing you should do is check if the Inverter AC Isolator (if applicable this would be beside your inverter) and the Solar Supply Main Switch in your switchboard are on. Check also that there has not been a power failure as a power failure would give the same message.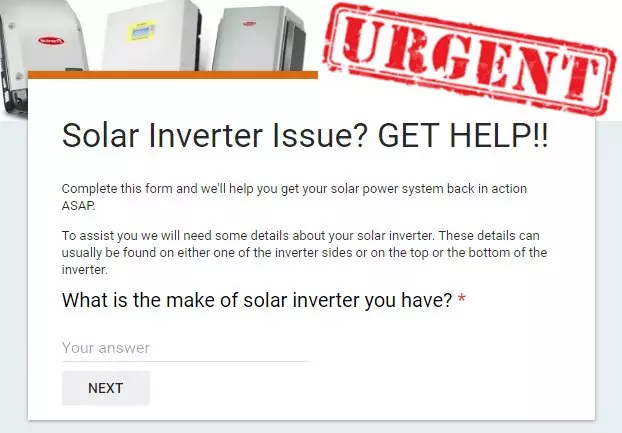 If after checking the above the inverter still says "No AC Connection", what you'll need to do is contact a solar accredited electrician to come and have a look at your system and work out what's causing the problem. They will check if you're getting the right voltage from the electricity grid to the inverter.
Still no AC Connection on your Growatt solar inverter? One more thing…
Ok so your electrician has checked the AC voltage at the inverter and it's all good? There is one more thing that your electrician can try and that's a small fuse inside the Growatt inverter.
In our experience we've found that this fuse can blow and all that's required is a replacement fuse be installed and away the Growatt goes! The following image shows the location of the fuse – HAZARDOUS VOLTAGES MAY BE PRESENT INSIDE THE INVERTER EVEN WHEN TURNED OFF – ALL ELECTRICAL WORK MUST BE PERFORMED BY A LICENSED ELECTRICIAN!!
If you need further assistance on your Growatt Solar Inverter No AC Connection issue please complete the form above under the URGENT heading and we'll assist you further.

Need more information on Growatt solar inverters? Checkout the below.
For more information on Growatt solar inverters including inverter datasheets, manuals, fault codes etc. click here.

Click here to get your solar power system back saving you money rather than costing you money!
Got A Question About Solar Power? Click Here For Answers!