Founded in 2007 Jiangsu Zeversolar New Energy Co. Ltd. is a high tech enterprise that specialises in the R & D and manufacture of solar power inverters. With leading industry professionals Zeversolar is a wholly owned subsidiary of the SMA Group, one of the world leaders in solar inverter manufacturing. The SMA Group focus on advanced research and development of futuristic technologies has allowed the group to consistently account for 40% of the global market of solar power inverters. Holding over 400 global technology patents the SMA Group and Zeversolar compliment each other by combining the best of two worlds: Chinese efficiency and German quality standards.
Zeversolar are driven by the idea of a solar-power revolution. By creating reliable, affordable and easy-to-use solar inverters for all kinds of solar power systems, they are revolutionising access to solar power and bringing energy to everybody.
Checkout the following video about the Zeversolar company.

Zeversolar Zeverlution Series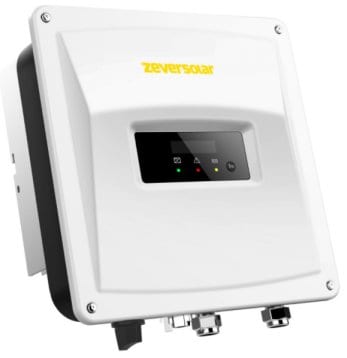 The Zeverlution range are reliable and affordable solar inverters. By introducing a patented inverter topology the Zeverlution requires less power electronic components for increased reliability while also reducing the weight of the inverter by nearly 50%. With an efficiency of 97.5% and wifi communication as standard the Zeverlution is a reliable and affordable choice for your solar power system.
Please see the below technical data for the Zeversolar Zeverlution solar inverters or checkout the following datasheets:
Wanting to connect your Zeversolar solar inverter to the ZeverCloud online monitoring portal? find out how to setup the Zeversolar WiFi monitoring portal here.
Zeversolar Zeverlution Inverter Technical Data
Rated Active Power (at unity power factor)1500W2000W3000W5000WWeight7.3kg8kg11kg
Technical Data

Zeverlution 1500S

Zeverlution 2000S

Zeverlution 3000S

Zeverlution 5000

Input (DC)
DC Convertible Power (at unity power factor)
1750W
2350W
3150W
5300W
Max. Input Voltage
500V
600V
MPP Voltage Range / Rated Input Voltage
70-450V / 360V
70-520V / 360V
100-520V / 360V
Minimum Start Voltage
80V
Minimum Feed-In Power
6W
30W
Maximum Input Current
11A
11A / 11A
Number of MPPTs
1
2
Output (AC)
Maximum Output Current
7.5A
10A
15A
23A
Efficiency
Maximum Efficiency
97.2%
97.3%
97.5%
97.2%
MPPT Efficiency
99.5%
General Data
Dimensions
346 x 346 x 132mm
346 x 346 x 146mm
341 x 395 x 172mm
Cooling Concept
Convection
Noise Emission (typical)
< 15 dB at 1m
< 25 dB at 1m
Installation
Indoor or Outdoor
Degree of Protection
IP65