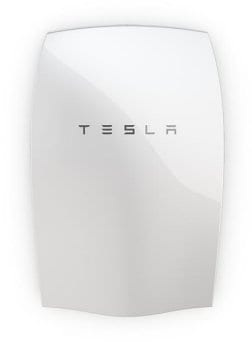 The Tesla Powerwall Home Battery allows the storage of your surplus solar power generated during the day for consumption when it's actually required, which is usually in the evening when people arrive home from the days activities.
As can be seen on the following graph a typical household uses the bulk of their power in the evening for cooking, entertainment, lighting etc. and very little power during the day when the solar power is actually being generated. This leads to most of the solar power produced on standard grid connect solar power systems being sent back to the grid as surplus at a low rate of 6c to 10c a kWh.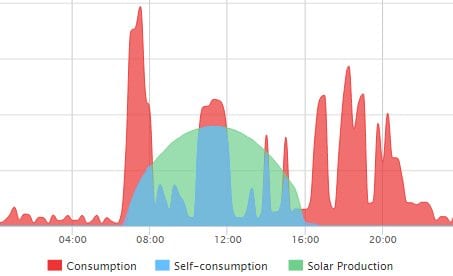 Storing this surplus solar power and having it available when required in the evening makes sense, but before the Tesla Powerwall Home Battery there hasn't been an economically viable way to do this. This however is changing. Checkout the following video to see how self consumption of solar power can be maximised with the Tesla PowerWall.


Tesla Powerwall Home Battery – 24hr Sun
With the Tesla Powerwall you can store your surplus solar power and use it when you need it, not necessarily when the sun's shining. This functionality will minimise the amount of power you need to take from the grid and the whole process is completely automated. In a blackout the Tesla Powerwall can automatically switch to battery power for your essential loads, giving you extra peace of mind through the summer storm season, especially if you're out in the Gold Coast hinterland.
Is your Solar Power System Compatible with the Tesla PowerWall?
If you have an existing solar power system that you want to connect a Tesla PowerWall to the best way to do this is with an SMA Sunny Boy Storage Battery Charger. This device will work in conjunction with your existing solar power system and automatically send any surplus solar power to your Tesla PowerWall.



SMA are one of the worlds most respected solar inverter manufacturers with quality products that have a proven history of reliability. The SMA Sunny Boy Storage 2.5 can be installed with a Tesla PowerWall to any new or existing solar power system and allow the storage of surplus power into a high voltage battery such as the Tesla PowerWall Home Battery opening the floodgate for any solar power system to be truly "battery ready".
For more information on this device check out the Sunny Boy Storage datasheet here.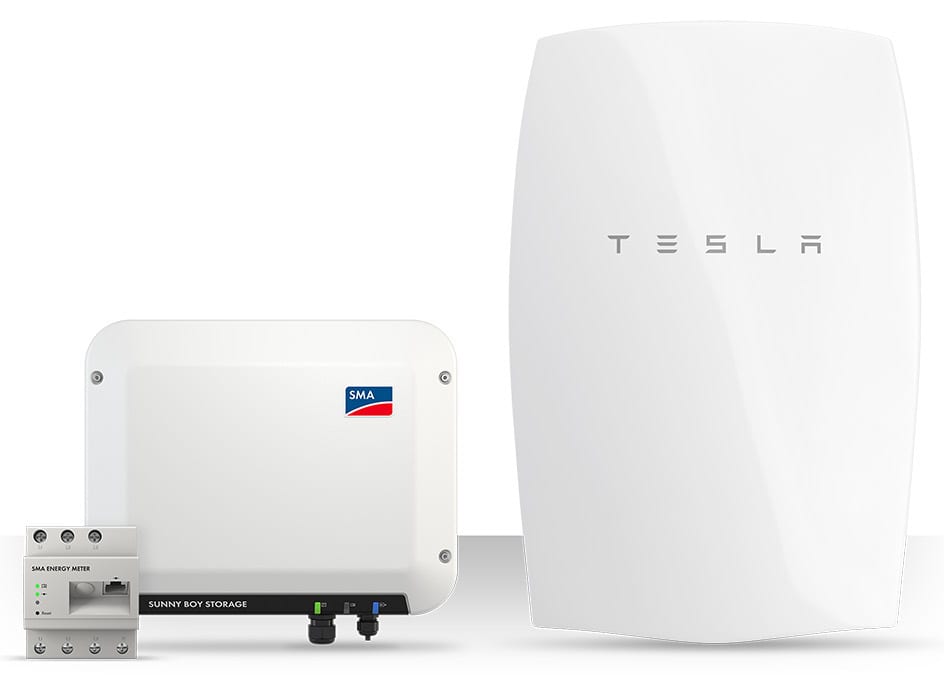 SolarEdge StorEdge Inverter – Designed for Tesla Powerwall
The SolarEdge StorEdge Inverter is a solar power inverter that is specifically designed to work in conjunction with the Tesla Powerwall home battery. The SolarEdge StorEdge is ideal for backup power and on-grid storage and has the following benefits:
Backup Power – the SolarEdge StorEdge inverter includes the hardware required for automatic backup power for backed-up loads in case of grid interruption
On-grid Applications – maximises self-consumption, export limits and time of use shifts to maximise the reductions on your power bills
Simple Design & Installation – single inverter for solar power, on-grid storage and backup power
Enhanced Safety – designed to eliminate high voltage and current during installations, maintenance and fire fighting
Full Visibility – built-in monitoring of battery status, solar power production, remaining backup power, and self consumption data
Easy Maintenance – remote access to inverter software
For more information on this inverter / Tesla PowerWall controller check out the SolarEdge StorEdge Inverter datasheet here.
Existing SolarEdge Inverters – Are They Compatible?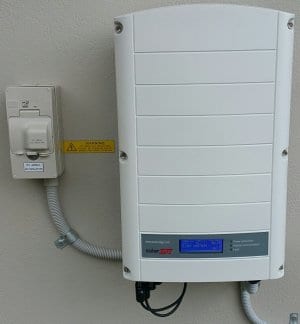 Existing SolarEdge solar power inverters are compatible with the Tesla Powerwall Home Battery through a special StorEdge interface between the SolarEdge inverter and the Tesla Powerwall Home Battery and will provide all the benefits of the StorEdge inverter listed above except for backup power in the case of a blackout or power failure. For most people in suburbia this shouldn't be too much of an issue, however if you are in an area where the power grid is unreliable then it may be best to upgrade to the StorEdge SolarEdge inverter.
For more information on this device check out the SolarEdge StorEdge Interface datasheet here.
To find out more information in regards to the Tesla Powerwall Home Battery and how it can allow you to maximise the self consumption of your solar power please leave your details by clicking on the following link and we will be in touch ASAP!




Got A Question About Solar Power? Click Here For Answers!