Ginlong Solar Inverter OV Bus Error Message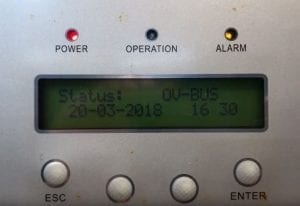 The Ginlong Solar Inverter OV Bus Error message is a sign of an internal error with your inverter, and if you're seeing it your systems not working so you really want to deal with it ASAP.
The Ginlong Solar Inverter OV Bus error message means the inverter has detected an "Over-Voltage" on the DC bus within the inverter. This is an internal fault within the inverter, and you'll probably need to have the inverter looked at by a professional. One thing you can try first however is a reboot of your Ginlong solar inverter.
How to Reboot Your Ginlong Solar Inverter
Rebooting your Ginlong solar inverter will require you to follow the proper shutdown procedure, as otherwise you could potentially damage the system. There should be a shutdown procedure somewhere near your inverter on how to reboot the system, but if not, just do the following:
Turn OFF the solar supply main switch in your switchboard
Turn OFF the PV array DC isolator(s).
Wait for the inverter screen to go completely blank.
Once completely blank, wait a few seconds and then turn ON the PV array DC isolator.
Turn ON the solar supply main switch in your switchboard
Restarting may take a couple of minutes, so just wait patiently for the inverter to fully reboot. If the OV Bus error message is displayed again and the alarm light is still lit, you are going to need the help of a solar accredited electrician.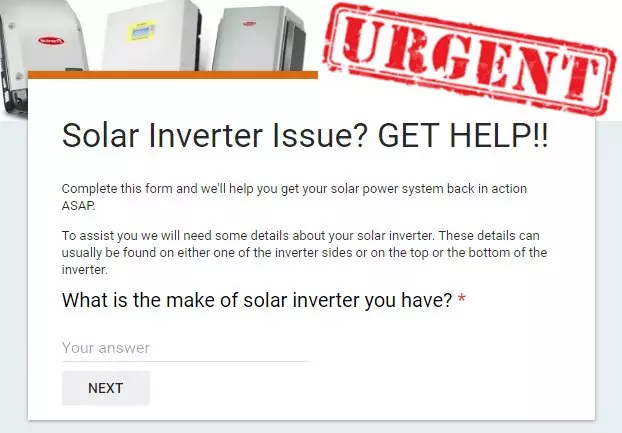 If your Ginlong inverter was installed within the last 5 years, it's likely covered by the manufacturer's warranty. To make a warranty claim you'll need the model and serial numbers of the inverter. These are located on a data plate on the side of the inverter. You'll also need some proof of purchase showing when the system was originally installed.
If your inverter was installed more than 5 years ago unfortunately it'll be out of warranty. In this case we recommend you replace the inverter. This is the best course of action rather than paying to have it repaired and still having an inverter that's not covered by warranty – as you're throwing good money at something which may fall over and cost you more money tomorrow.
For further assistance with the OV error message please complete the form above under the URGENT heading so we can help you further.

Got A Question About Solar Power? Click Here For Answers!


</a