Is your JFY Solar Inverter displaying a No Grid error message on the screen?
In our experience with JFY solar inverters an issue we've seen a number of times at Gold Coast Solar Power Solutions is with JFY inverters displaying a 'No Grid' error message on the screen.
The No Grid message means that the inverter hasn't detected any AC power coming to it from the switchboard. As this error is telling you that there's no power from the electricity grid it's normal in the case of a blackout or power failure – but if the sun is up and you have power in your home and the inverter is displaying No Grid it's not normal, you need to take some immediate action as your solar power system isn't working.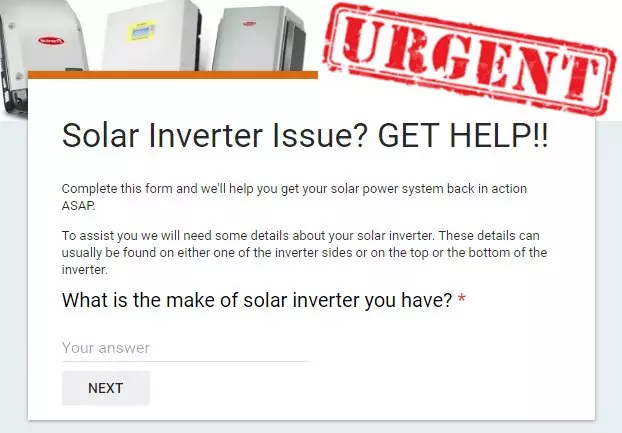 What to do about a JFY Solar Inverter No Grid message
As this issue is on the AC side of the inverter the first things to check are as follows:
Check that the SOLAR SUPPLY MAIN SWITCH in your switchboard is turned ON
Check that the Inverter AC Isolator (beside the inverter if present) is turned ON
Check that your appliances are working in the home to make sure there hasn't been a black out
If after checking the above the inverter is still showing the No Grid error you will need to get in touch with a local solar accredited electrician to further diagnose the root cause of your inverter issue. The issue will either be with the AC power feeding to the inverter or with the inverter itself. If it turns out to be an internal problem with the inverter then it will be covered under warranty if it was installed within the last 5 years or if it's outside the 5-year warranty period then it may require replacement.
If you need further assistance with your JFY Solar Inverter No Grid issue please complete the form above under the URGENT heading and we'll assist you further.

Need more information on JFY solar inverters? Checkout the below.
For more information on JFY solar inverters including inverter datasheets, manuals, fault codes etc. click here.

Click here to get your solar power system back saving you money rather than costing you money!
Got A Question About Solar Power? Click Here For Answers!