Is your KLNE Sunteams Solar Inverter showing a High Temperature Error?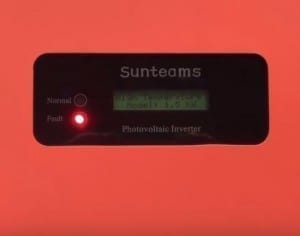 One of the common errors seen on KLNE Sunteams solar inverters is the High Temperature Error. Here at Gold Coast Power Solutions we've seen this issue on KLNE Sunteams solar inverters a number of times and it has usually ended up being a failure of the inverters internal temperature sensor.
On hot days KLNE Sunteams solar inverters can be affected by the high temperature if they are installed in full sun, and in these conditions they may display a high temperature error if it gets especially hot. When this happens the red fault light on the inverter will be lit and the High Temperature Error is shown – this is normal behaviour for the KLNE Sunteams inverter if it's overheating. If it's not a super hot day, your inverter isn't baking away in the full sun and you're still getting a High Temperature message coming up on the screen then your solar power system most likely has developed an internal fault that needs looking into. When your inverter is showing the High Temrperature Error message it will not be producing any power.
Causes of a KLNE Sunteams Solar Inverter High Temperature Error
As we've already mentioned if the inverter is in full sun on a very hot day then it may display this error; if the error clears when it cools down then your best course of action would be to try and protect the inverter from the high temperatures.
If your KLNE Sunteams solar inverter is showing the High Temperature message and the inverter is cool and not working hard then it's most likely that there's an internal issue with the temperature sensor in the inverter. This causes the temperature sensor to incorrectly detect an issue and display the High Temperature reading.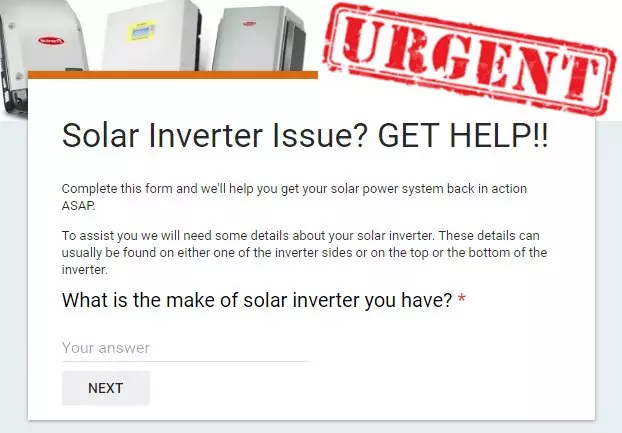 High temperature reading on a KLNE Sunteams solar inverter? Try this.
First, try rebooting your solar inverter. Make sure to follow the proper shutdown procedure:
Turn off the SOLAR SUPPLY MAIN SWITCH or Inverter AC Isolator.
Turn off the PV Array DC Isolator located at the inverter.
Wait for approximately 1 minute.
Turn on the AC Isolator.
Turn on the PV ARRAY DC Isolator.
Wait until the green Power light is on.
If the issue persists we recommend you contact a solar accredited electrician to have a look at your KLNE Sunteams Solar Inverter High Temperature Error issue.
If your near the Gold Coast or Brisbane area and need assistance with your KLNE Sunteams Solar Inverter High Temperature Error issue, we can help! Just complete the form on this page with your details so our team can provide you with further assistance.
If you are somewhere else in Australia and after a replacement inverter please click on the following link, we have quality replacement solar inverters in stock ready to be delivered to your door.

Need more information on KLNE Sunteams solar inverters? Checkout the below.
For more information on KLNE Sunteams solar inverters including inverter datasheets, manuals, fault codes etc. click here.

Click here to get your solar power system back saving you money rather than costing you money!
Got A Question About Solar Power? Click Here For Answers!