Solar King Solar Inverter Relay Failure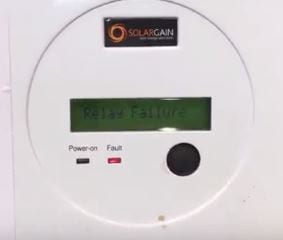 A Solar King solar inverter relay failure message occurs when an internal relay inside the inverter fails to operate correctly. There are two signs that you have this issue:
The "Fault" light is on
The screen is showing "Relay Failure"
Additionally, you may hear a clicking from the inverter as the relays inside the unit trying to pull in. When you have a relay failure your solar power system isn't working, so you'll want to get this issue sorted ASAP.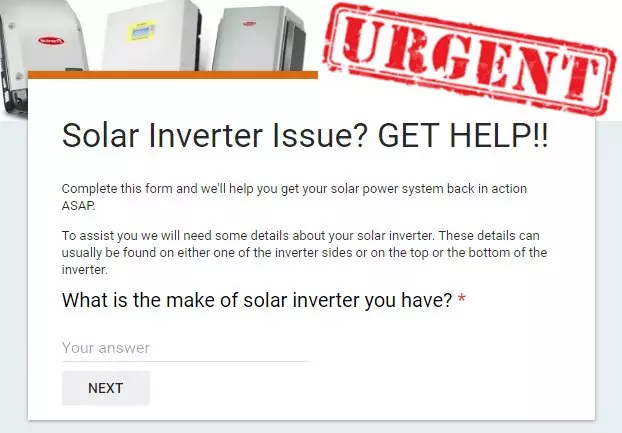 Relay Failure? Try Rebooting Your Solar King Solar Inverter
Your inverter relay failure problem may possibly be fixed with a simple reboot, so we recommend you try this before taking any further action. Sometime the inverter may start working again after a reboot, however it may give the relay failure message soon thereafter. It's worth a try though!
Your inverter should have instructions for how to reboot your inverter, but if not, just follow these steps:
Turn OFF the solar supply main switch (or inverter AC isolator if present).
Turn OFF the PV array DC isolator.
Wait for the inverter screen to power down completely and go blank.
Turn ON the PV array DC isolator.
Turn ON the solar supply main switch (or inverter AC isolator if present).
Wait a few minutes while the inverter boots back up.
As the inverter tries to start up, it will go through a 60 second countdown and you may hear the inverter clicking as the relays are tested. If you are still seeing the "Relay Failure" message after the reboot, you're going to require the help of a solar accredited electrician.

The Solar King inverters came with a 5-year warranty as standard so if it was installed within the last 5 years you may be able to get the issue rectified under warranty. To make a warranty claim, you will require the model # (already mentioned) and the serial #, which is located on the bottom of the inverter.
If your inverter is out of warranty, you are going to have to pay out of pocket to repair or replace the inverter. Repairing a device like this is like throwing good money after bad, as you it could easily develop another fault soon after being fixed and cost you more money. Because of this we recommend you replace your faulty Solar King inverter with a quality new inverter so you are covered by warranty into the future.
For further advice please complete the form above under the URGENT heading and we'll assist you further.

Got A Question About Solar Power? Click Here For Answers!