B&B Solar Inverters
B&B solar inverters are designed and manufactured by a Chinese company B&B, which is a subsidiary of another company called MOSO. We first came across the B&B solar inverters after receiving a typical phone call – a customer with a B&B inverter installed by another company. Now a couple of years later they are having issues with the inverter and lo and behold! The company who installed the system isn't around! Unfortunately the B&B inverter company isn't represented locally in Australia and this is always a big problem. No Australian representation = No support. Yes you can ring China and try and talk to the manufacturer. From our personal experience I wish you luck with that.
It's always important to frequently check the operation of your solar inverter to ensure it's working correctly. You can be sure your B&B solar inverter is working normally by checking the following:
The inverter says "On Grid"
The readout shows there is power being produced in W (Watts)
The inverter has 2 green lights on
Problems With Your B&B Solar Inverter
When the B&B solar inverter is operation the red alarm light to the top right of the screen area should not be lit. If the alarm light is lit then there is a an issue with your solar power system and it isn't working. If you ever see the red alarm light on and the sun is out, the first thing we would recommend you try is a reboot of the B&B inverter.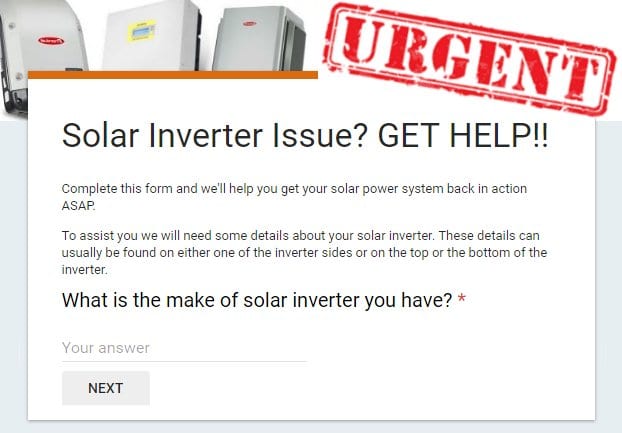 How to Reboot Your B&B Solar Inverter
Your B&B inverter can be a bit like a computer in that sometimes it can run into a glitch which a simple reboot will fix. You can reboot your inverter by following these steps:
Turn OFF the inverter AC isolator (if one is present) or the Solar Supply Main Switch in the switchboard
Turn OFF the PV array DC isolator(s)
Wait for the inverter screen to go completely blank
Turn ON the PV array DC isolator(s)
Turn ON the inverter AC isolator (if one is present) or the Solar Supply Main Switch in the switchboard
Wait 2-3 minutes for the inverter to restart.
If after attempting the reboot and waiting a couple of minutes for the inverter to start up you are still having the same issue then you need some qualified technical assistance. The best thing you can do is have a solar accredited electrician come and take a look at the inverter for you – if the company that originally installed it for you is still around I would recommend giving them a call, however since you're on this page I doubt they are..
For further advice please complete the form above under the URGENT heading and we'll try to assist you further.

Got A Question About Solar Power? Click Here For Answers!