Nestled up on the top of Mount Tamborine is the Tamborine Mountain Bowls Club. As an organisation catering for the local bowling community it's a continual juggling act of trying to keep prices for patrons as affordable as possible whilst ensuring the running costs of the club are covered. With the continual rise in power costs over the last few years the decision was made to investigate the viability of a solar power system for the club in the hope that it would make a significant dent in the clubs power bills.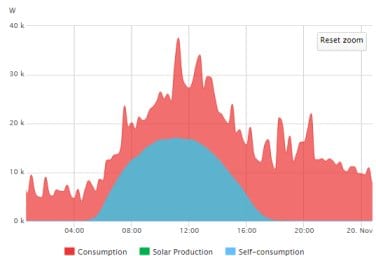 Gold Coast Solar Power Solutions were approached to provide a solution to suit the clubs requirements and after inspecting the facility and assessing the clubs power consumption history a 21kW solar power system was designed to suit the sites day time power consumption. At the request of Energex this system was also designed to be a "zero export" system; Energex would not allow any surplus solar power to be sent back to the power grid.
The solar proposal utilising quality equipment complete with long warranties was presented to the management team and with the systems estimated Return on Investment (RoI) of just 3.1 years and estimated power bill savings to an amount greater than $200,000 over the next 25 years the decision was made by the board to move forward with the installation.
Gold Coast Solar Power Solutions supplied and installed 84 x DAQO New Energy 250W solar panels on the Tamborine Bowls Club connected to a Solar Edge 17 kW 3 phase inverter. Utilising the SolarEdge module level power optimisation and monitoring technology allows both the Bowls Club management and Gold Coast Solar Power Solutions to keep a close eye on the performance of the entire system and ensure the very highest yield is achieved from each solar panel installed.
View current production information on the Tamborine Mountain Bowls Club solar power system here.
Since installation the Tamborine Mountain Bowls Club have seen their power bills cut by over 40% with the system proving to yield even higher than originally anticipated.
Learn more about commercial solar power systems for businesses here.
Read more commercial solar power case studies here.

Company / Organisation
Tamborine Mountain Bowls Club
Location
Tamborine Mountain, Gold Coast Australia
Installation Date
July 2015
Industry
Club / Entertainment
Solution
84 x DAQO New Energy 250 W Solar Panels
1 x SolarEdge 17 kW 3 phase Inverter
84 x SolarEdge 300 W Power Optimisers
1 x SolarEdge Electricity Meter
Estimated Savings Over 25 Years
Over $200,000.00
CO2 Equivalent Abatement per year
26.9 Tonnes
Energy Output per year
32,856 kWh