At Gold Coast Solar Power Solutions we've been supplying and installing REC solar panels since 2010. Over the test of time they have proven themselves to be a high-performance and high-quality product. With next to no warranty issues in that time and great, reliable, performance REC is a brand that you can trust.
Why REC solar panels?
REC is the largest European brand of solar panels
With headquarters in Norway, REC is an international solar company employing thousands of people worldwide.
REC solar panels are manufactured at a state-of-the-art automated production facility in Singapore.
Established in 1996.
More than 200 patents granted or pending.
Lowest warranty claims in the industry
Lowest Bankruptcy risk in the industry
Tour the REC automated production plant in Singapore
Benefits of the REC TwinPeak 2 Series Solar Panels
REC TwinPeak 2 solar panels feature an innovative design for higher solar panel efficiency and power output, giving you:
More power for more electricity generation
Higher yield through improved performance in shaded conditions
Breakthrough technologies for increased light capture
The proven reliability of an established European brand

Setting new standards in polycrystalline solar panels
REC TwinPeak 2 Series solar panels use unique and innovative technologies, and a groundbreaking layout to give you high efficiency and high power output.
Based on 120 laser-cut polycrystalline cells, the REC TwinPeak 2 Series includes four different technologies which together, result in an extra output of over 20 Watts per solar panel, a class-leading efficiency of up to 17.7%, and set new standards for polycrystalline solar panels.
Get more power out of your available roof space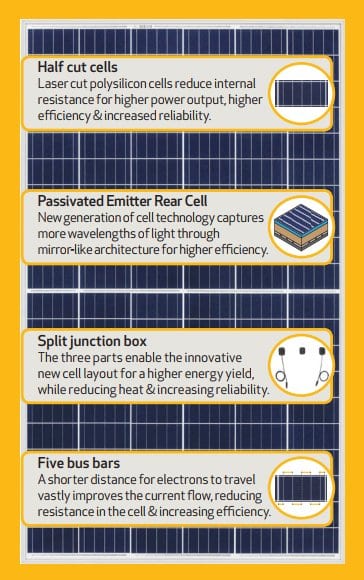 Packing in the technological advancements shown here means REC TwinPeak solar panels give you more power output per square meter than the standard 60-cell competition. This means that in areas with limited space such as rooftops, you can fit in more electricity generation capacity and make maximum use of the available space.
REC TwinPeak Solar Panels & Shade
One of the major advantages of the REC TwinPeak Series compared to standard solar panels is their ability to generate electricity when partially shaded. This helps you produce more energy over time from your solar panel installation.
If any part of a standard solar panel is shaded it will lose the production from at least one string, or one-third of its power production. It can even stop generating power altogether if it's shaded across the width of the panel.
REC TwinPeak solar panels are split into two twin sections that generate power independently of each other.  They then combine again before the current exits the panel. This helps them to continue producing electricity in the non-shaded section even at times of reduced light on the panel. Just another way the REC TwinPeak solar panels can increase the overall yield and profitability of your solar power system.
REC TwinPeak Solar Panels & High Temperatures
Another great feature of the REC Twin Peak 2 solar panels is their very impressive temperature co-efficient of -0.36% per degree. Very simply this means that in high temperatures REC Twin Peak 2 solar panels will be producing more power than other solar panels of comparable wattage. For more information on solar panels and temperature please click here.