Eaton Solar Inverters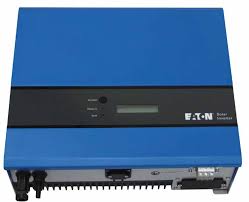 Eaton Solar Inverters manual and common fault and error messages.
Eaton is a very large company which dabbled in residential solar power inverters for a very short period of time. They still produce very large solar inverters but not inverters that most people will ever see.
Eaton ETN 2000 2kW solar inverters came with a standard 5 year warranty.
Eaton Solar Inverters manual and common fault and error messages
Eaton solar inverter fault and error messages