Delta RPI Home Solar Inverter A29 Relay Open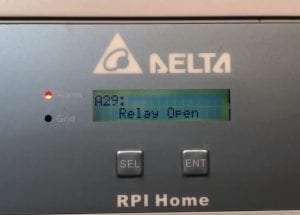 The Delta RPI home solar inverter A29 relay open message is your inverter telling you that there's a problem with your solar power system. The A29 Relay Open message means your solar power system isn't working, so it's in your best interests to do something about it ASAP.
There are typically two clear signs you have this fault. On the inverter the:
Red "Alarm"light will be flashing & the
Screen will display an "A29 Relay Open" message

What Does the A29 Relay Open Message Mean?
The A29 relay open error message on a Delta RPI home solar inverter is an indication that an internal relay within the inverter is not working correctly.
If you see this message the first thing we recommend you do is attempt a reboot of your inverter. To shut down the system:
Turn OFF the Solar Supply Main Switch in the switchboard (or the inverter AC isolator, if applicable)
Turn OFF the PV Array Main Switch(s) beside the inverter
Wait for the inverter display to go blank, and then reboot the system by turning both the switches back on (the order doesn't matter on startup). The inverter will then go through a start up procedure that takes a couple of minutes.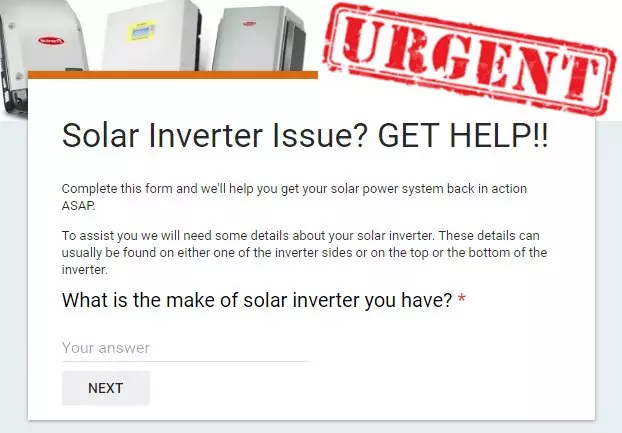 What To Do About an A29 Relay Open Message
If after attempting the system reboot you're still seeing the A29 Relay Open message, unfortunately you're going to need some professional help. The Delta RPI Home inverters are covered by Delta's 5-year manufacturer warranty, so if your inverter was installed within the last 5 years Delta will get the issue sorted for you. For a Delta warranty claim you will need to provide proof of purchase along with the inverter model number and serial number.
If your inverter was installed more than 5 years ago we recommend you replace the inverter with a new model with a full product warranty. It doesn't make sense to throw good money at an inverter outside of the warranty period as another component could potentially fail before long and you're up for more money. This way, you don't have the risk of paying for repairs and then not being covered by warranty the next time it breaks down.
For further assistance please complete the form above under the URGENT heading so we can help you further.

Got A Question About Solar Power? Click Here For Answers!