Eversolar / Zeversolar Solar Inverters
The Eversolar company began in 2007 and soon became one of the biggest solar inverter manufacturers in China. The company changed its name to Zeversolar and at the end of 2012 the SMA Group purchased a 72.5% stake in the company and now SMA fully owns the company. This has allowed Zeversolar to combine the best of two worlds: Chinese efficiency and German quality standards.
The early Eversolar / Zeversolar inverter did have a few issues but since the SMA Group took a majority stake in the company the German engineers have gone through all the products and ironed out the issues. Both Eversolar / Zeversolar inverter come with a standard 5-year warranty.
Eversolar inverter data sheets manual and common faults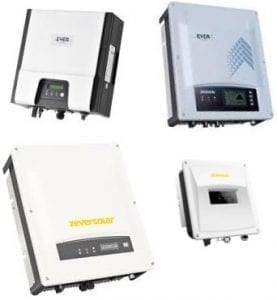 Eversolar Solar Inverter Data Sheets
Eversolar Eversol & Evershine Inverter Data Sheets
Eversol TL1000/1500/2000/3000/3680/5000 Inverter Data Sheets
Eversolar Solar Inverter User Manuals
Eversolar Eversol TL1500, TL2000 Inverter Manual
Eversol TL1500-20, TL2000-20, TL3000-20 Solar Inverter Manual
Common Eversolar Solar Inverter Fault / Error Codes
Eversolar solar inverter Relay Check Fail error message
Eversolar solar inverter DC INJ High error message
Eversolar solar inverter Isolation Fault error message
Eversolar solar inverter Utility Loss error message