At Gold Coast Solar Power Solutions we recommend REC solar panels as a premium, quality product. We are pleased to announce that REC solar has just improved their panel warranties, please see the following good news!
Standard solar module warranties are simple, but unlike the modules, they do not adapt over time. REC now offers a new industry leading product and power output warranty that provides real security.
REC solar modules produced from September 2011 now include a linear power output warranty. This is our assurance that your REC module will perform exactly as you expect it to – every year. We have almost doubled our product warranty to ten full years. That means real security.
[singlepic id=159 w=320 h=240 float=right]25 Year Linear Performance Warranty
At least 97% output guaranteed during the first year of performance
Maximum 0,7% reduction of power output per year from year 2-25
This guarantees more than 90% annual power output after 10 years and more than 80% annual power output after 25 years.
Year Product Warranty
REC's existing 63 month material and workmanship warranty is now changed to a 10 year product warranty. REC can stand behind this warranty due to the high quality of our products.
BENEFITS PROVIDED BY THE IMPROVED REC SOLAR PANELS WARRANTY
– More power guaranteed
– Improved net present value and internal rate of return calculations
– Increased investment predictability
– Longer product quality protection
View the REC solar panels warranty here
Have your REC solar panels installed by the REC Solar Professionals – Gold Coast Solar Power Solutions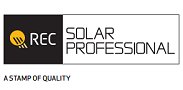 Gold Coast Solar Power Solutions are recognised by the REC Group as REC Solar Professionals. As a REC Solar Professional you the customer benefit from an additional 2 year material and workmanship warranty on your REC solar panels, bringing the total material and workmanship warranty up to 12 years. This is possible by the fact that the REC Group recognises that when your solar power system is installed by Gold Coast Solar Power Solutions it will be installed to all the specifications that the REC Group specify.