What Does Off-Grid Solar Power Mean?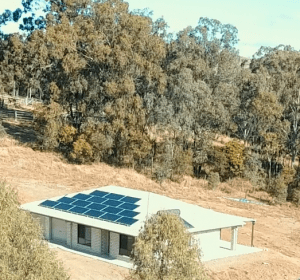 The term "Off grid solar power" means that a solar power system powers a property but it's not connected to the electricity grid. So the property is effectively "off the grid". When we say electricity grid we're talking about the power lines or underground power that brings the power to most properties. Off-grid solar power systems are also known as "stand-alone power systems". That's because they are "stand-alone"; they function independently of the electricity grid.
Why Would I Want an Off-Grid Solar Power System?
This is an important question and there are a number of different reasons:
1. Cost to connect to the grid is too high.
In remote locations, or even sometimes when the power lines are just a few hundred metres away, the cost to connect to the electricity grid can be enormous. In these situations, it just makes sense to go off the grid altogether. Why would you pay a bucket load of money to connect to the grid so you can then be billed for that power every quarter? Why not put that money into becoming energy independent with your own off grid power system?
2. I'm sick of paying high power bills!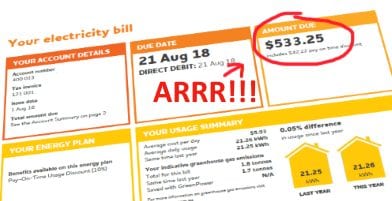 With growing fixed costs like so-called "supply charges" and electricity tariffs that have nearly doubled in the last decade many people are sick and tired of the grid. An off-grid solar power system can mean you disconnect from the grid altogether. Say goodbye to those power bills once and for all!
3. The electricity grid can't meet my power requirements.
Sometimes the electricity grid infrastructure just can't cope with more power being taken from it, or maybe only single-phase power is available and you have 3 phase loads you need to power. An off grid solar power system can potentially bridge the gap.
Going Off-Grid-what's involved?
Off-grid solar power systems are a lot more involved than a standard grid connect solar power system. This is because an off-grid solar power system has to produce enough power to cover both the day and night time power consumption of the property. Obviously, the sun isn't shining 24hrs a day so any power required at night time has to be stored in batteries.

Sizing an off grid solar power system
The size of an off grid solar power system in all its components is critical to providing a reliable source of power for years to come. Unlike grid connect solar power systems, off grid systems don't have street power as a backup. In this case, if power is required and your system isn't sized correctly you may run into the following:
The life of your expensive battery bank can be shortened dramatically. This can happen when the batteries are discharged too deeply.
Your backup generator may need to run quite often. We always recommend a backup generator with off grid systems, but it's not something you want running all the time! Generators are noisy and require maintenance and refueling. These are things that a well-designed system won't eliminate but will keep to a minimum.
To size an off-grid solar power system correctly the following needs to be taken into consideration:
Available solar resource: Is there enough unshaded area for solar panels to provide the required amount of power?
How much power is required? It's imperative that this is calculated correctly and to calculate correctly detailed information about each appliance and its daily usage is required. Without this information it's impossible to correctly size the components of an off grid solar power system! A chart to document this information is available here: Power Consumption Assessment Form (Excel Spreadsheet)
With this information an off grid solar power expert such as Gold Coast Solar Power Solutions can calculate exactly what size system will be required for your unique situation!

How much does an off grid solar power system cost?
Trying to give an answer to this question is a bit like answering "How long is a piece of string?" Well, it depends! Without detailed information about your requirements in the sizing section above we can't provide an accurate price. We'd love to help though so please fill in our daily usage spreadsheet here, then contact us here and our experts will be in touch with a solution to suit.
Important efficiency tips that can save you money
Heating
Using electricity to heat is an extremely inefficient use of power whereas gas is very efficient for heating.
For hot plates, ovens, even kettles we highly recommend using gas over electric appliances. For space heating DO NOT use electric heaters! Insulate the building well and if you must use heating use gas. For water heating use solar hot water systems or gas.
Cooling
Air conditioners use a lot of electricity. If possible try to use ceiling fans, insulate the building well, and try to employ cross ventilation, making use of natural convection and breezes. If you feel you must have air conditioning then keep it to smaller inverter split systems.
Summer Power Consumption
Over the summer months fans and air conditioners are used. Make sure these are accounted for when determining the appliance loads and power consumption of your property over the summer months.
Winter Power Consumption
Over the winter months the nights are longer so lights tend to be on for more hours and heating appliances may be required. Make sure these are accounted for when determining the appliance loads and power consumption of your property over the winter months.
Days of autonomy
It's highly likely that your solar panels won't provide sufficient power to charge your battery bank on heavily overcast days. Days of autonomy is the number of days you want power available from batteries before running a backup generator. This is important as when there's bad weather the solar panels won't provide enough power to recharge your batteries. Two to four days is quite normal, but be aware, the price rises dramatically with each additional day of autonomy! This is because batteries are an expensive part of your system, and more autonomy means more batteries!
You can of course charge the batteries back up with a generator. Another thing you can do is keep an eye on the weather forecast. If it's supposed to be bad weather for the next few days try to cut down your power consumption. This is a cheap way to extend the autonomous period you have to work with.
Off Grid Solar Power with the Gold Coast Solar Experts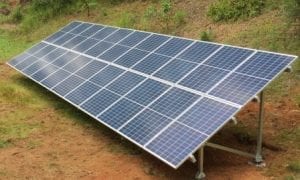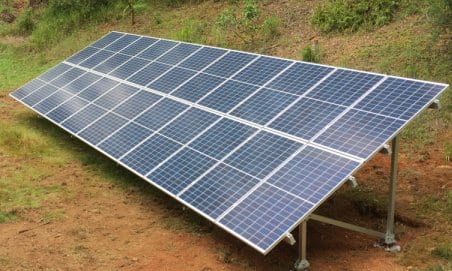 In certain situations off-grid solar power systems are a great investment, however, we can't emphasize enough the importance of using quality components. The solar panels, inverters, chargers, and batteries all should be of high quality and backed by a local company with a long history in the industry such as Gold Coast Solar Power Solutions. We are fully accredited and experienced in the design, supply, and installation of off-grid solar power systems, why not contact us today to see how we can help you go off grid?