Do you have a 1kW solar inverter that has failed and it's out of the original manufacturers warranty? The best thing to do will be to replace the faulty inverter with a brand new model with a full warranty, but you have to be careful that you install a replacement solar inverter that will keep you eligible for the current feed in tariff that you have been enjoying. What I mean for example is if you're in QLD and have been enjoying the 44c net feed in tariff you cannot replace your 1kW solar inverter with a larger sized inverter; if you do replace it with a larger inverter you will lose your 44c feed in tariff and will get paid 0c for any surplus solar power, or 6c if you have your power bills with Origin or 8c if you are with AGL.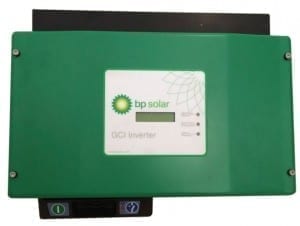 As this is the case obviously the best thing to do is replace your faulty 1kW solar inverter with another quality 1kW solar inverter.
The SMA Sunny Boy SB 1100 is the perfect grid connect inverter for a 1 KW solar installation and is one of the most efficient on the market. The SB1100 1kW solar inverter features an LCD display which by simply tapping turns on to show you your solar power systems current power output amongst other vital details about your solar power system. These 1kW solar inverters come with a 5-year warranty as standard through SMA, the manufacturer. SMA SB1100 inverters are designed and manufactured in Germany and are a very reliable solar inverter.
SMA Sunny Boy SB1100 Solar Grid Connect Inverter
[singlepic id=193 w=220 h=220 float=right]The SB1100 is one of the most high quality solar inverters on the market. Featuring SMA's famous German engineering, the inverter will help to achieve the optimum match between the solar panels output power and the inverters input power.
The SB1100 has an extended input voltage range of 400V, meaning that the inverter allows the implementation of a multitude of module configurations.
Features:
Integrated DC load-disconnecting switch ESS
For indoor and outdoor installation
Extended temperature range
Specifications:
Model: SB1100
Nominal Output: 1000W
Max. Power Output: 1100W
Max. Efficiency: 93%
Max Input Current: 10A
Max Input Voltage: 400V
Solar Voltage Range, MPPT: 139-400V
Dimensions (L x W x H): 434mm x 295mm x 214mm
Weight: 22kg (SN:SB1100)
Buy an SMA SB1100 1kW Solar Inverter With 10 Year Warranty
Unfortunately we are out of stock with this product and it and is no longer in production.