A large home complete with a swimming pool and ducted air conditioning can be expected to use a lot of power, and the small existing solar power system at this Helensvale property just wasn't cutting it. Gold Coast Solar Power Solutions removed the existing system and upgraded the property to a 13.32kW system. This system will more than cover the customers day time consumption, whilst also providing plenty of surplus solar power to offset their nighttime usage.
Paulene from Helensvale: "We were highly impressed with the professional job which was completed in a timely manner by the Gold Coast Solar Power Solutions team. We would recommend them any time."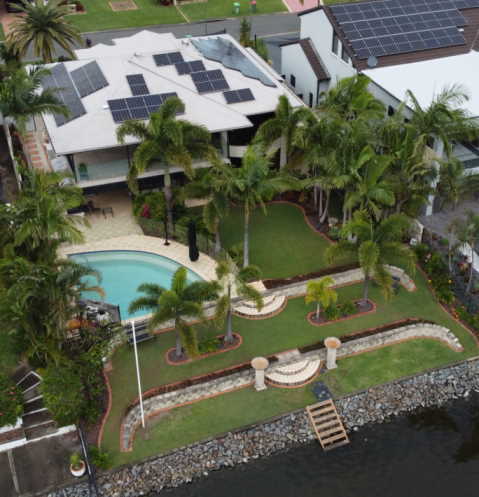 Solar power Helensvale: Paulene's 13.32kW Solar Power System was proudly installed by Gold Coast Solar Power Solutions in April 2021.
Solar Power Specifications:
System Size: 13.32kW
System Location: Helensvale, Gold Coast, Queensland, Australia
Solar Panel Type & Quantity: Seraphim 370W x 36
Solar Inverter: Sungrow SG5K-D x 2
Since 2008 Gold Coast Solar Power Solutions have been installing solar power systems on the Gold Coast and the surrounding areas. Our experienced and friendly team is local to Helensvale and can provide you with no-pressure advice to help determine the best solution for your specific needs. When you have a system installed in the Helensvale area, Gold Coast Solar Power Solutions will liaise with Energex & your electricity retailer for the upgrade of your electricity meter.
We also provide system maintenance checks and solar panel cleaning, solar power system upgrades, and additions, as well as repairs and replacements on solar panels and inverters.
If you're in the Helensvale area and are after a solar power system, Gold Coast Solar Power Solutions can help you today!

Gold Coast Solar Power Solutions specialise in:
We are the Gold Coast solar power experts!
Read more solar power testimonials from Gold Coast Solar Power Solutions customers