Delta RPI Home Solar Inverter E34 Ground Fault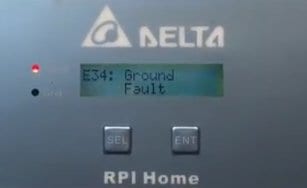 The Delta RPI Home E34 Ground Fault message is your inverter telling you that there's a problem with your solar power system. While you're seeing the E34 ground fault message your solar power system won't be working so it's time to take action!
There are typically two clear signs you have this fault. On the inverter the:
Red Fault light will be flashing & the
Screen will display an "E34 Ground Fault" message

What's the E34 Ground Fault Message Mean?
An E34 ground fault message on a Delta solar inverter is an indication that the inverter has detected a problem on the DC input side of the inverter. This is the solar panel side of the system and is usually caused damage to the system or by moisture getting in somewhere. We recommend you shut down your solar power system to ensure your safety. To shut down the system
Turn OFF the Solar Supply Main Switch in the switchboard
Turn OFF the PV Array Main Switch(s) beside the inverter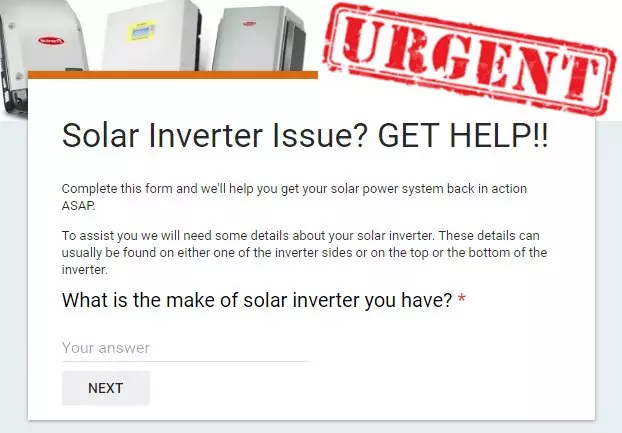 What To Do About an E34 Ground Fault
Now that you've shut off your solar system, you need to figure out what the problem is. Most ground faults have something to do with moisture or by damage to the system. This could possibly be casued by the following:
Moisture getting into an electrical connection
Moisture getting into the panels
Damage to a solar panel – smashed glass or damaged cables
The E34 ground fault could also be a problem with your inverter, however this isn't very likely.
As a first step we recommend you carry out a visual inspection of the system to see if you there's any damage or signs of moisture getting into the system. If a visual inspection doesn't reveal anything you are going to need the assistance of a solar accredited electrician to work out what's going on.
For further advice please complete the form above under the URGENT heading so we can assist you further.

Got A Question About Solar Power? Click Here For Answers!