Do you have a Delta Solivia Solar Inverter AC Voltage Failure Issue?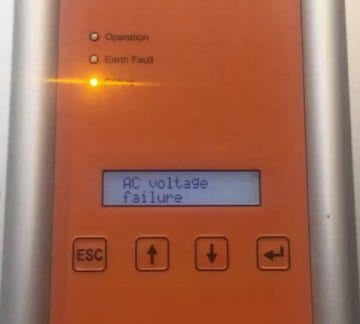 If a Delta Solivia solar inverter detects an issue with the voltage from the street it will display this "AC Voltage Failure" message on the screen and the orange light will be lit. When you see an issue such as this it means you're not getting any benefit from your solar power system so something should be done about it ASAP.
What can you do about a Delta Solivia Solar Inverter AC Voltage Failure issue?
With this issue the first thing you should do is check the following:
Inverter AC Isolator beside the inverter (if applicable) is turned ON
Solar Supply Main Switch in the switchboard is turned ON
AC plug under the inverter (on the RHS) is connected and undamaged.
If you've checked the above and you have power from the street; i.e. there's isn't a blackout and you still have the AC Voltage Failure message you're going to need some professional help. A solar accredited electrician will need to check that you are getting 240 V at the inverter; if you are then it sounds like you may have an internal fault with the inverter. If the problem is an internal fault and your Delta Solivia solar inverter was installed within the last 10 years a warranty claim can be made on the inverter. To make a warranty claim you will need to provide proof of purchase in the form of a tax invoice or Certificate of Compliance from when it was originally installed along with the model and serial numbers found on the side of the inverter.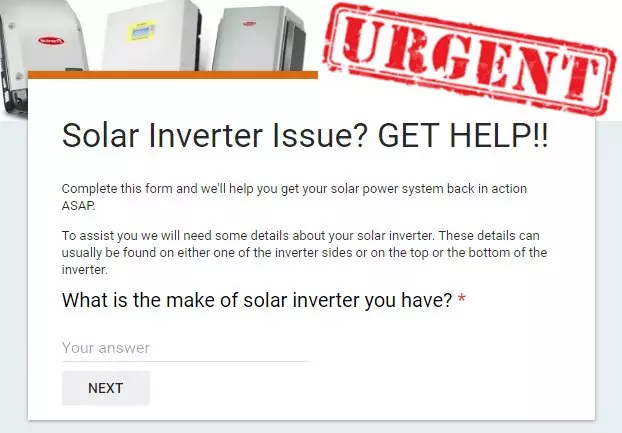 If you need further help with your Delta Solivia Solar Inverter AC Voltage Failure please complete the form above under the URGENT heading and we'll assist you further.
Need more information on Delta Solivia solar inverters? Checkout the below.
For more information on Delta Solivia solar inverters including inverter datasheets, manuals, fault codes etc. click here.


Click here to get your solar power system back saving you money rather than costing you money!
Got A Question About Solar Power? Click Here For Answers!