JFY Solar Inverter Stuck on Standby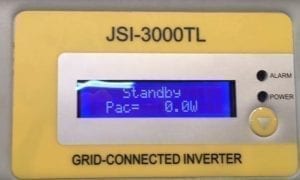 Have you just checked yoursolar power system and found your JFY Solar Inverter stuck on standby? When a JFY solar inverter is stuck on standby the screen will usually be displaying "PAC = 0.0W". A 0W reading tells you that no power is being generated by your solar power system. Your JFY solar inverter with this readout isn't doing anything and you'll want to work out why.
The standby mode on a JFY solar inverter is completely normal in certain situations, such as when there isn't enough power being generated by the solar panels. This could be at times where the sun is just rising or setting, or if the sky is heavily overcast. So if there's a very low amount of light from the sun don't worry too much about the Standby message, it's completely normal in these situations.
When the JFY inverter Standby message is a problem
Is the sun shining brightly and you're still getting a Standby 0.0W message on your JFY solar inverter? If so it looks like we have a more serious problem on our hands. The first thing we recommend you try if you find yourself in this situation is a reboot of your JFY solar inverter.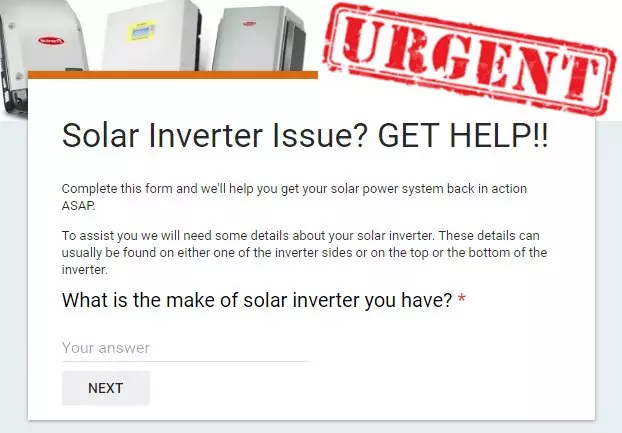 How to Reboot Your JFY Solar Inverter Stuck on Standby
Rebooting your solar inverter is quite simple, but it's important you follow the procedure correctly to avoid damaging your system. There should be instructions near your inverter on how to reboot your inverter as follows:
Turn OFF the solar supply main switch (or inverter AC isolator if present).
Turn OFF the PV array DC isolator.
Wait for the inverter screen to go completely blank
Turn ON the PV array DC isolator.
Turn ON the solar supply main switch (or inverter AC isolator if present).
Wait a few minutes while the inverter boots back up.
If after restarting the inverter you continue to see the same "Standby PAC = 0.0W", it's likely that your inverter has an internal fault and will need to be repaired or replaced. If your system was installed within the last 5 years it should be covered under the JFY's manufacturer warranty.
If your inverter is out of the warranty period you are left with 2 options:
Try to get the inverter repaired (could cost around $500)
Replace the inverter with a new solar inverter with full manufacturer warranty
We don't recommend option 1 as you will still be exposed to future issues with the inverter that would once again cost a lot of money to fix. We highly recommend replacing faulty inverters with a quality new inverter backed by a full manufacturer warranty to ensure you aren't out of pocket again should another fault develop.
For further advice please complete the form above under the URGENT heading and we'll assist you further.


Got A Question About Solar Power? Click Here For Answers!