SolaX DC INJ Fault: What it means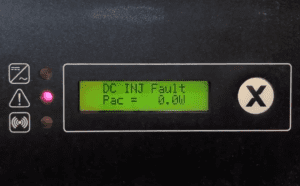 The SolaX DC INJ Fault Message is one of a large number of fault messages that a SolaX inverter can display.
If your SolaX inverter is coming up with this error, it means that the inverter has detected that there's DC being injected into the AC side of the inverter at a level which is too high. It's an internal fault with the inverter and when it senses this fault, the inverter shuts down to stop any DC power from the solar panels going into the grid.
What can you do about a Solax DC INJ Fault?
It is possible that the error you're seeing with your SolaX inverter is just a glitch which a system reboot will rectify. To reboot your SolaX solar inverter please follow these steps:
Turn OFF the solar supply main switch (or inverter AC isolator if present).
Turn OFF the PV array DC isolator.
Wait for the inverter screen to go completely blank and the red fault light to turn off.
Turn ON the PV array DC isolator.
Turn ON the solar supply main switch (or inverter AC isolator if present).
Wait a few minutes while the inverter boots back up.
If after restarting the inverter you still see the error message "DC INJ Fault" unfortunately it appears you may have an issue with your inverter which is going to require its replacement.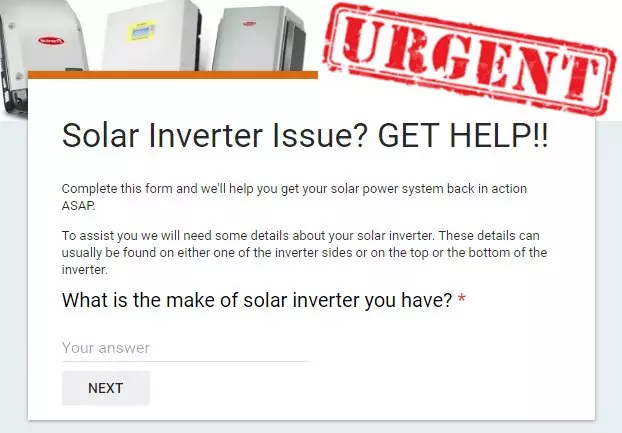 If your SolaX solar inverter is still within the 5-year warranty period then you can make a warranty claim with the inverter manufacturer. To make a warranty claim you'll need to provide proof of purchase in the form of a tax invoice or Certificate of Compliance from when it was originally installed along with the model and serial numbers found on the side of the inverter.
If your inverter's out of warranty the best option is to replace it with a new one. We recommend this over trying to get it repaired outside of warranty as you can easily spend $500 on repairs and you still have no warranty – it could fall over again tomorrow with another issue and you've wasted all that money. A new inverter will initially cost more but with a full manufacturers warranty at least yo don't have to worry about it for at least another 5 years.
If you need further assistance with your SolaX DC INJ Fault please complete the form above under the URGENT heading and we'll assist you further.


Click here to get your solar power system back saving you money rather than costing you money!
Got A Question About Solar Power? Click Here For Answers!