Xantrex Solar Inverter Off-Line Message
You may at some point have a problem with your Xantrex Solar Inverter where it shows an error message that says "Inverter Off-Line." If you see the this message it means that no power is being produced by the system, and if the sun is shining outside you will want to take action ASAP to rectify the issue – you have a problem. If it's dark outside and you're seeing the inverter offline message don't worry – that's normal.
How Do I Fix My Xantrex Solar Inverter Off-Line Issue?
There are two simple things you should check with your Xantrex Solar Inverter if you're getting the Off-Line error message as follows;
Check that the Solar DC isolator switch beside the inverter is in the on position
Make sure the DC cables from the above switch are properly plugged into the inverter
If neither of these checks have made any difference you are going to require the help of an accredited solar electrician.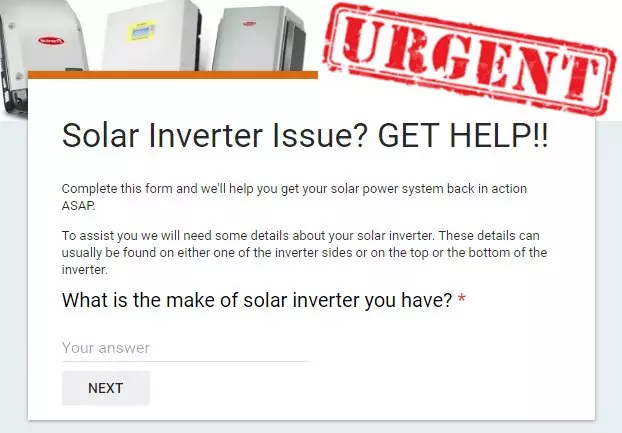 What's The Problem With Your Xantrex Inverter?
If it's a sunny day outside and your inverter is showing Inverter Off-line it means that the inverter isn't detecting and power from your solar panels. This may be a problem with the solar panels or the cabling and switches between the solar panels or inverter, or it is possible it's an internal problem with the Xantrex inverter. By checking the above you've done everything you can to ensure the correct connection between the inverter and the solar panels – now you are in need of an accredited solar electrician who can find where the problem is between the inverter and the panels.
If it does end up being an issue with your inverter your next step is to contact Xantrex about a warranty claim. Xantrex inverters come with a five year warranty, so if it was installed within the last 5 years you are covered. For a warranty claim you will need the inverter model number and serial number, both of which are on the bottom right side of your inverter. Using this information and your electrician's expertise, you won't have a problem filing a warranty claim with Xantrex.
For further advice please complete the form above under the URGENT heading and we'll assist you further.


Got A Question About Solar Power? Click Here For Answers!