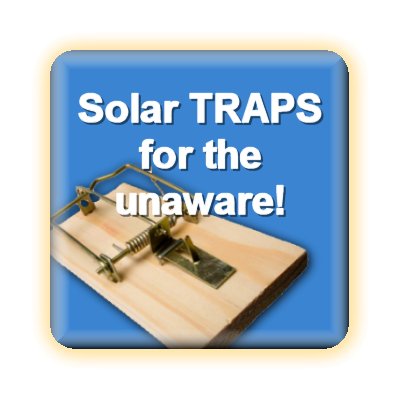 At Gold Coast Solar Power Solutions we seem to receive a steady stream of enquiries from people having solar power problems with the system installed by another company. Unfortunately, they're having issues with the system and they can't get any help from the original company whatsoever. To ensure that you don't find yourself a victim of the same fate please take into account the following advice before signing over your hard earnt cash to anyone:
Who Runs The Solar Power Business?
This is important as many solar power companies are run by salespeople and business people who are interested in one thing: money. Obviously, money's extremely important for any business however if a solar power company is run by people who are only interested in the bottom line? People with no idea about the intricacies of the products that they sell? If an issue comes up in the future will they be wanting to help you? Unfortunately, we see this continually with some of the larger national or statewide solar power installation companies. When solar power problems arise the customers are given a major run around to try and get any help – that's of course if they are even still in business! When your solar power system has an issue you want it sorted out ASAP – any downtime on your solar power system is costing you money!
Where Is The Solar Power Companies Office?
This is really important if you start having issues with your system. Is there someone you can actually get in front of and talk to about it? We hear many stories from customers being left on hold and passed through departments when they have an issue that needs to be fixed NOW! If the company isn't local are they going to have a local representative that can promptly service your needs?
If the companies office is a few hours away do you really think you're going to get timely, on-site help with your system? If you're not local you're likely to be a thorn in their side after they've taken your money. Local service from a reputable local company is by far your best bet.
How long has the business been trading under it's current trading name?
Unfortunately we have heard too many stories of solar power companies having major issues with their customers so they close the business down only to re open under a different trading name a few days later! They may state years of experience in the industry but has that been in ripping off people under another name? BEWARE! The Gold Coast has a bit of a reputation for scammers and sharks – do some due diligence and use a business that has stood the test of time. If they have been around for a number of years and you cannot find too much bad feedback from customers on forums such as Whirlpool then the chances are you have a reputable company.
What Solar Power Products Are On Offer?
We see people time and again who have been sold rubbish but all they were interested in at the time was the kW rating of the system. After a year or so when the solar panels or solar inverter fails and the company that sold them the system has disappeared they are stuck with a white elephant. To avoid this before signing anything check the following:
Manufacturer and Model of solar panels
Manufacturer and Model of solar inverter
When you have this information do some quick research on the products on offer. Check for any negative feedback on internet forums such as
Don't be fooled by the product being CEC certified for Australia – the Clean Energy Council passes any solar panels and inverters that meet its set minimum requirements. These requirements do not cover anything to do with the business behind the product they are certifying!
For information on quality solar power products please take the time to check out the following pages.
General Solar Power Products
Quality Solar Panels
Quality Solar Power Inverters
Choosing a Solar Power Inverter
Solar Power Problems Avoided
Too many people have been caught in traps involving solar power. By taking the advise on this page you should be able to navigate the solar power problems successfully and have a solar power system that will perform well for years to come!

Got A Question About Solar Power? Click Here For Answers!