Sunny Roo Solar Inverter Lights Flashing
Are the 3 lights on your Sunny Roo Solar Inverter flashing and all the figures on the screen reading 0?
Having all three lights flashing and the screen displaying 0's is an indication that there's an issue with your solar inverter. When the SunnyRoo Solar Inverter lights flashing problem occurs, the first thing we recommend you try to do with the system is attempt to reboot the system. Rebooting will generally clear any glitches in the system, thus bringing the solar inverter back to regular performance, a bit like a computer that has run into a software problem.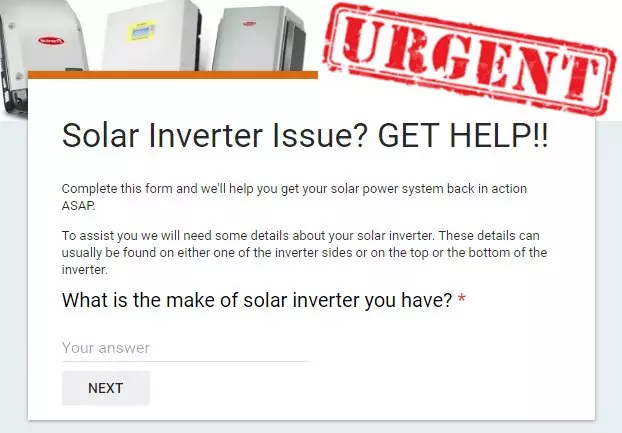 How to Reboot Your Sunny Roo Solar Inverter
There should be instructions near your inverter on how to reboot your inverter, but if there aren't, please follow the steps:
Turn OFF the solar supply main switch (or inverter AC isolator if present).
Turn OFF the PV array DC isolator.
Wait for the inverter screen to go completely blank
Turn ON the PV array DC isolator.
Turn ON the solar supply main switch (or inverter AC isolator if present).
Wait a few minutes while the inverter boots back up.
If after restarting the inverter you are still having the same issue with all the lights flashing, it looks like you have an internal error with your inverter. Unfortunately an internal error like this will mean your inverter needs to be repaired or replaced.
The Sunny Roo, Sunna and Beyon Building companies are no longer in business, so your product will not be covered under warranty. You could pay around $500 to repair your inverter, but then after paying out that good money you are still exposed to future issues with the inverter that would once again cost a lot of money to fix. We highly recommend replacing faulty Sunny Roo, Sunna and Beyond Building solar inverters with a quality new inverters backed by a full manufacturers warranty.
For further advice please complete the form above under the URGENT heading and we'll assist you further.


Got A Question About Solar Power? Click Here For Answers!